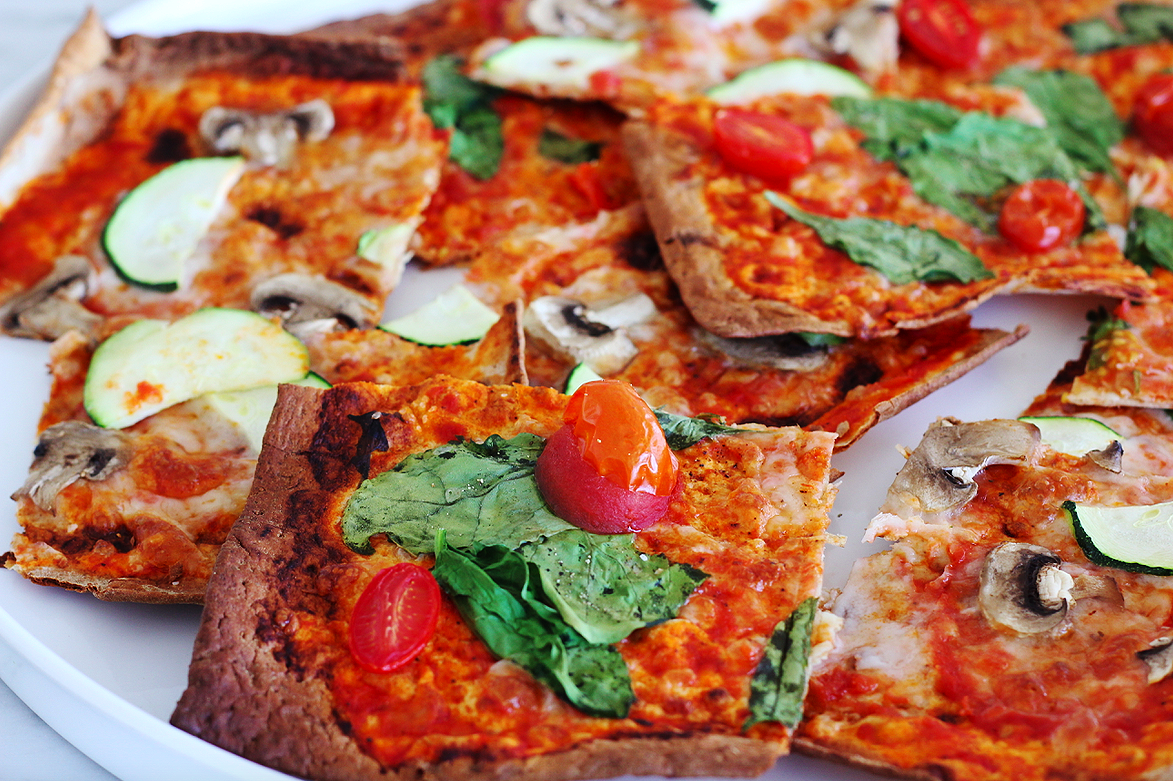 Crush your cravings with my 160-calorie, ultra-thin pizza using my absolute favorite lavash! Not only is it delicious, but it can be topped with tons of veggies and get this... you can eat the entire square (1 lavash: 120 cals, 3 g. fat, 10g. protein + cheese and marinara).
I haven't met a human that hasn't loved this recipe, and it's a breeze to make. My girlfriend MJ introduced me to lavash as a pizza crust, but I didn't find a Studio LB worthy lavash until I discovered Joseph's. Enjoy!
*As a test, Katie and I enjoyed this pizza four times in one week and did have a bit of bloat (could be fiber-related) so I wouldn't recommend eating it more than twice a week.

Ingredients
1 lavash per person
olive oil
1 tbsp Marinara or pizza sauce
1 tbsp of mozzarella or shredded cheese of choice

Instructions
1. Line baking sheet with foil.
2. LIGHTLY brush or spray lavash with a tiny bit of olive oil (too much will make it soggy). Sometimes I brush the foil and then allow the lavash to absorb it on both sides.
3. Top with marinara (too much will make it soggy) and mozzarella.
4. Bake at 425 for 4-5 minutes or until crust is golden brown. Watch it ...these cook very fast, and if you allow it to cook one minute too long it will burn.
The content of my posts are all items that I genuinely love and I will only work with affiliates and companies that are a good fit the LB brand. Live Better contains some contextual affiliate links. An affiliate link means that we receive commission on sales of the products that are linked.
Any products which have been gifted or LB for review is noted with an i/k (in kind) at the bottom of the post and are only posted if a good fit for the LB brand. Any sponsored giveaways or posts will be noted.